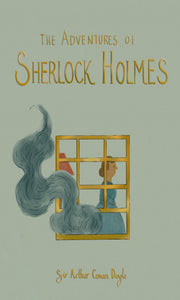 The Adventures of Sherlock Holmes (Collector's Edition)
Regular price
$13.00
$0.00
Having firmly established the characters of Sherlock Holmes and Dr Watson in the novels A Study in Scarlet and The Sign of the Four, Sir Arthur Conan Doyle was retained by The Strand Magazine to contribute a series of twelve short stories, which began with 'A Scandal in Bohemia' in 1891 and were published monthly for the next year. 

The stories, in which the master sleuth receives a stream of clients presenting him with baffling and bizarre mysteries in his consulting room at 221B Baker Street, were instantly popular and by the time of the publication of the final story, 'The Copper Beeches', they had become the mainstay of the magazine. 

They included such classic tales as 'The Five Orange Pips' and 'The Adventure of the Speckled Band', and were gathered together in a collection known as The Adventures of Sherlock Holmes, representing some of the finest detective stories ever written.mself.
About our Collector's Editions: These new compact hardbacks are cloth-bound, with matching coloured end papers, embossed gold and coloured blocking to enhance their beautiful, bespoke cover illustrations. The trim page size is 178 x 129mm.
---
More from this collection