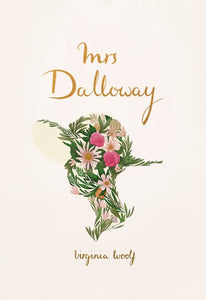 (SECONDS SALE) Mrs Dalloway (Collector's Edition)
Regular price
$9.00
Sale price
$12.00
This is part of the seconds sale which means there are small imperfections (marks, dents or scratches). Strictly no refunds / exchanges allowed. Sales are final.
Virginia Woolf's singular technique in Mrs Dalloway heralds a break with the traditional novel form and reflects a genuine humanity and a concern with the experiences that both enrich and stultify existence.

Society hostess, Clarissa Dalloway is giving a party. Her thoughts and sensations on that one day, and the interior monologues of others whose lives are interwoven with hers gradually reveal the characters of the central protagonists. Clarissa's life is touched by tragedy as the events in her day run parallel to those of Septimus Warren Smith, whose madness escalates as his life draws toward inevitable suicide.
About our Collector's Editions: These new compact hardbacks are cloth-bound, with matching coloured end papers, embossed gold and coloured blocking to enhance their beautiful, bespoke cover illustrations. The trim page size is 178 x 129mm.
---
More from this collection