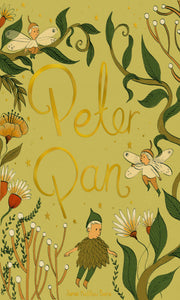 (SECONDS SALE) Peter Pan (Collector's Edition)
Regular price
$9.00
Sale price
$12.00
This is part of the seconds sale which means there are small imperfections (marks, dents or scratches). Strictly no refunds / exchanges allowed. Sales are final.
The magical Peter Pan comes to the night nursery of the Darling children, Wendy, John and Michael. He teaches them to fly, then takes them through the sky to Never-Never Land, where they find wolves, Mermaids and... Pirates.
The leader of the pirates is the sinister Captain Hook. His hand was bitten off by a crocodile, who, as Captain Hook explains 'liked me arm so much that he has followed me ever since, licking his lips for the rest of me'. After lots of adventures, the story reaches its exciting climax as Peter, Wendy and the children do battle with Captain Hook and his band.
About our Collector's Editions: These new compact hardbacks are cloth-bound, with matching coloured end papers, embossed gold and coloured blocking to enhance their beautiful, bespoke cover illustrations. The trim page size is 178 x 129mm.
---
More from this collection