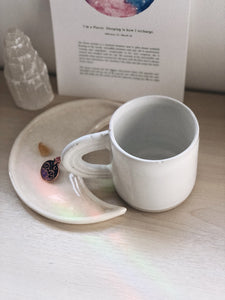 (DISPLAY ITEM) Porcelain Moon Dish
Regular price
$23.00
Sale price
$30.00
These plates are made using a strong but delicate porcelain body and finished with a thick crackle glaze.
Each plate is one of a kind and handmade using slip mould techniques. Your crescent moon is the perfect size as a jewellery dish, biscuit plate, to hold your crystals or to hold a smudge stick.

Lead-free and dishwasher safe although when possible I would recommend gentle hand washing. Please avoid exposing it to extreme temperatures and take care when storing.

Handmade ceramics are not perfect. They reflect how they were created and bear the marks of their maker. Slight differences in size, colour and shape are to be expected which is why handmade is so beautiful and unique.
Note: Wrapped in protective paper wrapper. 
By Latara Ceramics from Australia
---
More from this collection